Even though the chemical industry is full of data and analysis, there are still many unknowns. Global communication is at an historic all-time high, yet there remains a massive amount of disconnection and misunderstanding within the chemical industry.
For example, how well do chemical producers predict future prices? How well do manufacturers understand chemical legislation? How well do they track public trends, or predict the introduction of chemical product restrictions?
Connectivity in Chemical Industry Influencers
With the EU's REACH program now fully operational, and other regions close to achieving similar legislative models, chemical companies and downstream users are discovering that they need to have a clearer understanding of how their products are or could be regulated and the related impacts.
As Lorenzo Zullo, Managing Director and co-founder of Chemycal, observes, "in terms of regulatory frameworks, what we are seeing is more and more specific chemicals targeted by regulators. The challenge", he believes, "is to predict future legislation. Governments don't just wake up and suddenly decide to regulate the use of a chemical. Generally, everything starts from scientific studies that demonstrate the hazardous properties of a specific chemical. Once the hazardousness is know, attention moves to its use and how it could adversely impact human health or the environment. The outcome of the studies are usually picked up and further investigated by various stakeholders. When it emerges that there are clear potential repercussions on the environment or on particular segments of the society, such as workers, consumers or children, that's the moment when the problems is brought to the table of regulators and governments starts to act. From this perspective, NGOs and other interest groups plays a catalyst role, speeding up the time needed for a 'problematic' chemical to be brought to the attention of regulators."
In order to predict changes in chemical legislation and potential impacts to companies' business, there is a need, therefore, to monitor and collate all the inputs and influences that go towards creating chemical legislation.
But with so many influences on governments, how can chemical companies keep track of every participant in the process? Zullo believes that his company has developed a tool that could represent a solution: Chemycal combines IT technologies (i.e. automation and machine learning) and human expertise to collect data from worldwide stakeholders and information sources, link it to chemicals and regions, allowing companies to keep full control of their portfolio of chemicals and products.
An explicative case study is available on the post "Are changes in chemical legislation and potential impacts to your business predictable? Case study: Dechlorane Plus" that he published on LinkedIn.
Connectivity in Chemical Supply Chains
As Zullo observes, "The chemical industry itself might not always have a full understanding of how their chemicals are later used along the supply chain. This is because the communication across industry up and down supply chains is very often discontinuous."
Zullo clarified his ideas in a recent interview for CIEX 2018 when he explained how, "Information on how chemicals are used along the supply chain is not always accessible to chemical manufacturers. What is needed is innovation and improvement of processes on how actors in the supply chain interact and exchange information, possibly via a single communication system."
---
CIEX is the premier event created for R&D and Innovation experts from the consumer, industrial and specialty chemical sectors. Every year, CIEX brings together all players across the value chain to create a unique platform for participants to learn, exchange ideas, and collaborate.
---
One of the main reasons why a single communication system has never been implemented before is the difficulty to define a model that could operate globally and, most importantly, that could be trusted; some information on chemicals might be subject to business confidentiality. Companies require warranties that the information is managed and stored in a robust and traceable manner and can be accessed by authorised parties.
As Zullo states, "blockchain is a technology potentially highly suited to address this challenge by creating a single, global, secure and trusted infrastructure to exchange and track chemical-related information along supply chains and across sectors". He is working on the development of a unique global open-source blockchain infrastructure, called "ChemChain" and a standard communication protocol to track and exchange information on chemicals along supply chains and across sectors. ChemChain will provide efficiency, security, reliability, targeted accessibility and transparency among economic operators at different levels of the supply chain.
According to Zullo, "ChemChain would enable tracking of chemicals throughout their lifecycle, enhancing companies' connectivity and stimulating the establishment of chemical-sustainable circular models."
Zullo is not alone in thinking that connectivity across the supply chain is one of the keys for enhancing innovation in the chemical industry. Connectivity can be used not only to improve chemical business along the supply chain, but also during production itself.
BASF already has its Sustainable Solution Steering in place; a tool for chemical companies to "evaluate the entire value chain considering industry- and region-specific views in chemical markets."
Its methodology is to analyse outside influences on specific chemical products. In doing so, it evaluates three key areas:
Growing customer needs to differentiate with sustainability.
New regulations and standards in value chains.
Changing societal and business environments prompting demand for sustainable products.
Meanwhile, BioMar, a leading producer of animal feed is applying the same process to its supply chain. The result is that by, "… year-end it will have finalized a full source-to-market sustainability rating of its entire raw material portfolio."
However, while the BASF solution and BioMar's progress focus mostly on the sustainability of raw material inputs and their journey to the consumer, there is a growing need to develop a platform to assess a chemical product's path through regulatory issues.
Connectivity in Chemical Production
Patrick Deruytter, VP Northern Region Europe for Emerson Automation Solutions, sees setting up an interconnected process for chemical manufacture as something that is integral to the chemical industry's future.
In a recent interview with the industry journal, Process Engineering, he discussed his vision for connectivity when he said that, "While the chemicals sector must react as best it can to political/economic pressures that it cannot control, it can shape its digital future to ensure unprecedented levels of productivity and competitiveness."
Patrick Deruytter, VP Northern Region Europe for Emerson Automation Solutions
In terms of running a chemical processing plant along data analysis guidelines, he sees the progress made in the automotive industry as a classic example. He observes how, "Twenty years ago there were many more independent dealers and garages, the job today has changed significantly – you bring in your car, they bring out a large diagnostic device and they plug it in."
Through this technological step, he sees a similar step being made in chemical production. "I think that, for all connected services, we are going to see that trend accelerating," he notes. "That means a need for diagnostic devices, extended access to huge databases… which will require deeper knowledge, more investment."
It will also require plenty of innovation. For while technology is creating new opportunities daily, it is only by innovating connectivity between all parts of the chemical industry supply chain that improvements can be made.
Connectivity Among Chemical Industry Professionals
This is because innovation in chemicals does not just come from the chemical industry and chemical researchers. Innovation also comes from the influence of other entities; governments, NGO's, pressure groups, lobbyists, the media, and campaigns against individual companies.
A Map of Twitter Influencers
It is for this reason that Zullo is participating in the upcoming CIEX 2018. An event he sees as, "… an ideal opportunity as it brings together a broad range of actors from across the supply chain."
As Zullo notes, "Innovation is only possible with full cooperation across the supply chain."
---
At CIEX it is possible to connect, discuss and discover the most compelling ideas emerging globally with an unmatched group of innovators from companies such as Merck, DSM, BASF, Cefic, Lego, IKEA, DAW SE, Avantium, Evonik, Unilever, Covestro and many more!
This year, CIEX is scheduled to be held on September 19-20 in Frankfurt, Germany.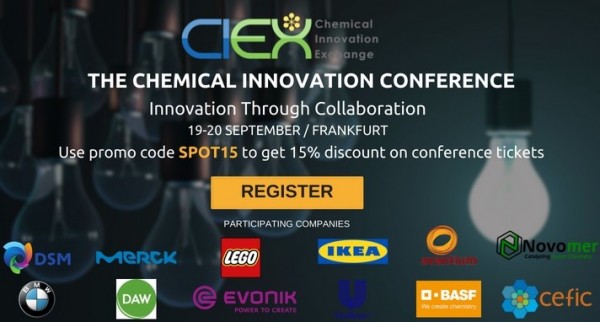 ---
Photo credit: ChemistryBlog, PNGTree, BizJournals, VectorJunky, PNGTree, SocialmediaBreakfastMaine, OncologyCentral, ProcessEngineering, & Forbes