If you are a chemical producer or supplier, it pays to be a pessimist. Disaster, either natural or man-made is usually never far away. Be it a chemical plant explosion, or market collapse, global economic sanctions, trade war, or Brexit, no one can be certain what will hit the fan, or when.
Sometimes, the impact to chemical supply chains can be catastrophic. For example, when Hurricane Harvey hit Texas last year, the full force of the storm was felt by the chemical facilities around the petrochemical hub at Houston. As Bloomberg reported at the time, "A third of U.S. chemical production has been disrupted by Harvey, boosting prices and threatening shortages for basic industrial building blocks such as chlorine."
The estimated total cost of the damage was $125 billion, while a report by Accenture, calculated that there was a, "… chemical production output shortage of approximately 70 million pounds (31 million kilos) of ethylene per day."
Chemical supply shortages and supply chain disruption on this scale can impact any chemical company, causing headaches for even the most prepared chemical industry professional.
So, what can chemical procurement teams and commodity pool officers (CPO's) do to minimize the impact of situations where chemical feedstocks are severely restricted or even grind to a halt?
Technology, it seems, may have the answer.
Blockchain, specifically, has the ability to handle the millions of pieces of data across entire supply chains, to keep purchasing departments informed when things go wrong, and to help them find alternative raw material sources.
As Bhudeep Hathi, an associate director for Accenture's Advanced Technology Center explains, "Leveraging blockchain-based solutions is an innovative way to manage both information and process deficiencies. To mitigate disruptions in an operational supply chain, for instance, a chemical company could devise a permissioned blockchain that allows critical information and data related to plant operations and supply chains to be recorded in almost real time. This would make the information available to all required stakeholders within the ecosystem of a chemical company."
He continues in his report for Accenture by noting example of data that could be applied or linked to a blockchain. These, "… include the volume of raw, intermediate and finished products, as well as production plans. Additional data might include financial details such as invoices, purchase orders, credit details, logistics data, work permit information and employee records. This blockchain-based data would act as a 'golden reference source' for reconciliation and recovery in a post-disaster scenario."
For many chemical industry professionals, however, the use of blockchain may seem to be purely theoretical or 'pie-in-the sky'. However, as Lorenzo Zullo, stated in a recent LinkedIn conversation, "Even if it is difficult to understand how blockchain works in practice, the potential of using it to track chemicals is evident. Similar to what happened with the creation of internet; people realised its importance only once practical applications (websites, email etc.) were developed."
Zullo is the Co-Founder of Chemycal, an enterprise that monitors global chemical legislation to predict supply chain interruptions and market closures. He is also a major advocator of the power of blockchain in the chemical industry, recently outlining his beliefs in an article on SPOTCHEMI's networking hub for chemical industry professionals.
---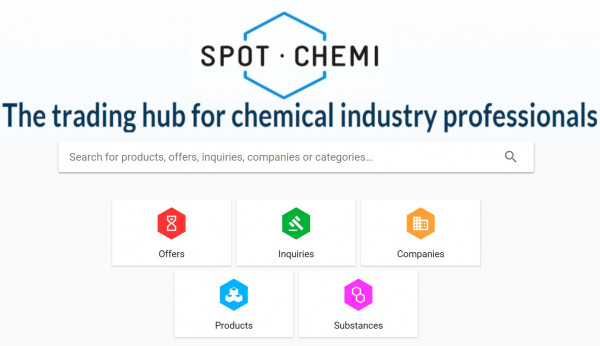 By joining the SPOTCHEMI network you will be able to become a part of an international platform designed to streamline the buying and selling of industrial chemicals and raw materials.
As a member you will gain these valuable business advantages:
A free service for presenting your chemical products
A 'find and locate' service for the chemical products you need
View the latest chemical price changes and trends
Make new business contacts with like-minded chemical industry professionals
Receive online inquiries to buy your chemical products from genuine purchasers
Expand your chemical business by meeting trusted chemical suppliers
Track your trading team's deals and communication chains in one place
Inspect potential clients visiting your company profile
---
Here he described how, "Blockchain is a technology potentially highly suited to addressing supply chain challenges by creating a single, global, secure and trusted infrastructure to exchange and track chemical-related information along supply chains and across sectors. Managing efficiency, security, reliability, targeted accessibility and transparency among economic operators at different levels of the supply chain."
But, as yet, the rethinking of chemical supply chains, the transparency between chemical consumers and suppliers, the use of digital purchasing or trading with blockchain, and the 'expect-the-worst' mentality hasn't permeated through the chemical industry.
For example, a 2016 survey of commodity pool officers by Deliotte found that, "62% of CPOs increasingly feel their teams lack the skills needed to deliver their procurement strategy," and "60% of CPOs do not have a clear digital strategy."
Without a clear strategy, or the skills to implement it, it is difficult to imagine much success at chemical procurement, and yet it seems that even planning in the modern world is getting harder and harder.
As AI expert, author, and celebrated futurist Gihan Perera explains during his visionary presentations, "When you create your strategic plans for the future, do you include two kinds of futures? In the past, we could see what was ahead, and could plan for that in our strategy. That's still important, but the world is changing so fast that there's another kind of future: the future we can't see. How do you plan for that future as well?"
If you goal is industrial chemical procurement, perhaps the best answer is to start thinking like a pessimist.
---
Photo credit: Exsif, Camco, MotherJones, Accenture, ChemstationAsia, & Statescoop